Powerful switching between 4 CPUs with DVI/VGA video, USB and Audio
The Wizard KVM switches provide high performance switching between computers with DVI, USB and audio interfaces. They allow a single user to control four computers fitted with single, dual, triple or quad video channels while sharing the USB and audio channels individually between them. Even better these KVM switches are 100% compatible with the LRX KVM extenders to access also remote computers.
Black Box's Wizard KVM Switching vs Standard KVM Switching
Features
Standard KVM Switch
Black Box Wizard KVM Switch
USB Emulation
Standard USB Emulation for USB HID, USB 1.1, USB 2.0
True USB Emulation for USB HID plus transparent USB 1.1 & USB 2.0
Video (DVI)
Single Link DVI up to 1920 x 1200, no HDCP support
Full Dual Link DVI up to 4K30; special resolutions (2000x2000), VGA & HDCP pass-through
Video Channels
One Single Link DVI-channel
Options with 1, 2, 3, or 4 Dual Link DVI-channels
KVM Extension
None or limited compatibility with KVM Extenders
100% compatible with LRX KVM Extenders
Computer Selection
Via Push buttons and/or hotkeys
Hotkey, push buttons, mouse & RS232
Future-safe
No upgrades available
Free Upgrades for future peripheral protocols etc.
Rack mounting
Desktop only
Desktop units with optional 19" rack mount kits
Security
None
Optional password protection
Standard USB emulation vs. True USB Emulation
True Emulation means that the keyboard and mouse are continuously emulated to computers, meaning that all the extra keys and functions of HID devices are supported without the unreliability problems associated with switched (enumerated) USB operation.
Emulated USB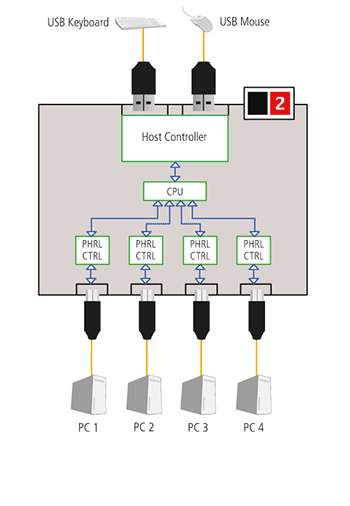 The inside view of a typical emulated USB switch
The keyboard and mouse are linked to a host controller (a sophisticated USB hub) and then through to the microprocessor (CPU) which performs the data capture and switching processes.
True USB Emulation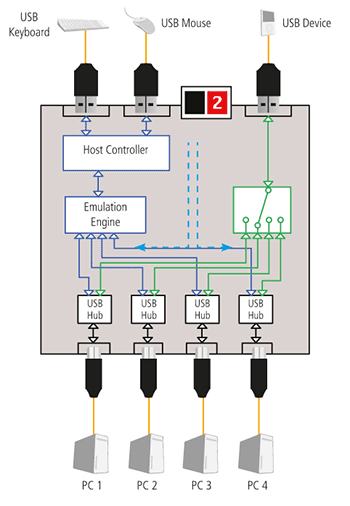 The inside view of a True Emulation USB switch
The emulated section of the switch is shown in blue and handles only the keyboard and mouse. This section relies heavily on the emulation engine, a custom circuit that is closely allied with each of the USB hubs. These ensure that all connections to the computers remain active.
Overall Verdict
While most standard KVM Switches offer normal USB emulation, Black Box's Wizard KVM switching wins extra points by focusing on transparent USB data streams and dedicated ports for keyboard and mouse (K/M) with true emulation, allowing faster switching, individual USB channel sharing and usage of K/M with extended functions. In regards to video, these switches support Single and Dual Link DVI, HDCP protected contents as well as VGA inputs to control legacy and power workstations over one system. This solution enables switching of up to 4 video channels on a single unit, or 12 video channels with cascased, synchronized switches. Move and extend program windows seamlessly across multiple screens, and control CPUs with multiple graphic outputs.
The port selection settings allow convenient fast switching commands and is also suitable for automated systems via API. Future proof is safeguarded where free upgrades for future peripheral protocols are provided. On top of this, security is also guaranteed since Black Box Wizard KVM solutions make sure that switching is limited to authorized users using the optional password protection.
To sum up, this is one of the best solutions for a clean separation of USB K/M from transparent USB data stream for fast and individual USB channel switching, correct signal treatment and support of keyboard/ mouse with extended functions for your challenging business needs.
To find out more how these solutions can help you, please visit our KVM web shop portfolio.
Get a FREE white paper on the benefits of USB True Emulation for KVM Switches
Use this transparent and reliable switching technology to avoid the limitations of traditional emulations and get to understand how True Emulation overcomes the limitations associated with emulated USB switching techniques
Featured products