ServSwitch KVM solutions offer a complete switching range for your public transport application

Modern digital extension and switching technology emphasizes the movement from analog to digital switching, and also away from point-to-point switching toward nearly freely scalable matrices (matrix switching). These new proprietary (using CATx or fiber optic cables) and IP-based digital technologies offer the best quality in video yet. Along with extending video, these applications extend keyboard and mouse, digital or analog audio, serial, and USB.
IP-based KVM extension and switching in operating rooms
Both ServSwitch Agility and DTX can be used in control rooms for the back-racking of servers. This allows the remote administration of servers as if a monitor, keyboard, and mouse were plugged directly into the server. At all times, dispatch operators can monitor equipment and people (both employees and passengers) in real-time from the control room, with no connection issues. It also provides a comfortable working environment, without the background noise and heat. Downtime can be minimised significantly by keeping the computers in air-conditioned (server) rooms.
These solutions allow the network control team to control up to 500+ servers from a single location, making installation, upgrades and security more manageable.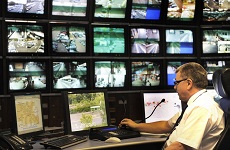 4-to-1 KVM switching with smooth real-time image processing in control rooms
The real-time, multiview ServSwitch 4-site flex is a particularly useful switching system for implementation in public transport environments. Using this technology dispatch operators can display, control, and monitor up to four analog or digital video sources on a single monitor at your workstation instead of setting up a bank of monitors, hereby increasing the reaction speed in case of security issues.
Extended desktop experience
With desktop KVM you can perform functions that ordinarily would require separate keyboard/mouse sets – freeing up valuable desktop space and simplifying the work of your employees. The ServSwitch Freedom gives dispatch operators an extended desktop experience while using four different PCs. Simply move your mouse from one screen to the other to switch. .